Free PRIORITY Shipping ON Orders OVER $35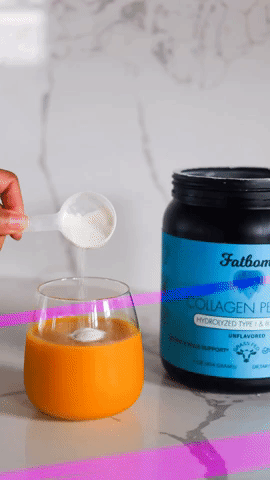 After hearing about the benefits of collagen, I started using another brand I found at Whole Foods and liked it. However, this product is much better value and could not be simpler to order through Amazon. I add it to my morning coffee and smoothies, as well as baked goods (my favorite application!) and highly recommend for anyone looking to get a nutritional boost with basically no effort.
I am an avid collagen user, have been for the past 8 months, it does wonder to control appetite, help with joint pain, and because of the high protein helps manage blood sugar, it also really thickens and strengthens nails. I have tried a lot of different collagens on the market, and honestly most are pretty good, the best are hydrolized and are from grass fed beef.
This one does have both of those markers, but it is pretty low on protein with only 9g, so it's best used in coffee or tea or something of the like, not really a smoothie collagen. This one does mix well in warm water though, and is pretty much tasteless. Good product!
"Makes my morning, every morning!"
I add one scoop every day in my hydro flask with water. I let it sit on my commute to work and it dissolves very well. There is no taste compared to the other collagen brad I tried. I have only used it in water, so I'm not sure how well it fits with other beverages. What I noticed first is that I heal better after my workouts.
This is one of my favorite supplements. I have been using this for about three months now, and I have seen such a huge difference in the way my skin looks. I have tried so many different supplements and skincare products to help clear up my cystic acne, and this is one of the only things that has helped. I have also tried many other brands of collagen, and peptides are where it is at. It has no flavor, so you can add it to any beverage. I like to mix it in with my morning coffee. The only downside of this is that even though it states to mix.
"Good value. Very faint smell.""
Compared to many other powder collagen drinks I've tried, this one has good value with 45 servings of collagen type I and III per tub. In terms of taste and scent, they're both good and acceptable, with a faint scent of bovine collagen when you put your nose close to it. This doesn't bother me at all as I've tried other collagen powders that had a stronger smell in the past.
I've been drinking collagen powder drinks almost daily for almost a year now, and its beneficial effects have clearly manifested in myself, often noticeable by others. Besides smoothing and plumping out my skin, it has also strengthened my hair.
I give this product 5 stars for its value, low scent, and because it mixes easily inside my blender. 👍
"Grass fed bovine collagen- for hair skin and nails"
My wife has been taking a scoop of collagen in her morning coffee for some time now - her preferred type, grass fed bovine - which is what this is. In her coffee, it really doesn't have any flavor and its finely ground, so it mixes quickly. But she takes it to benefit her hair skin and nails. This is a quality product that meets all of her needs. Recommended.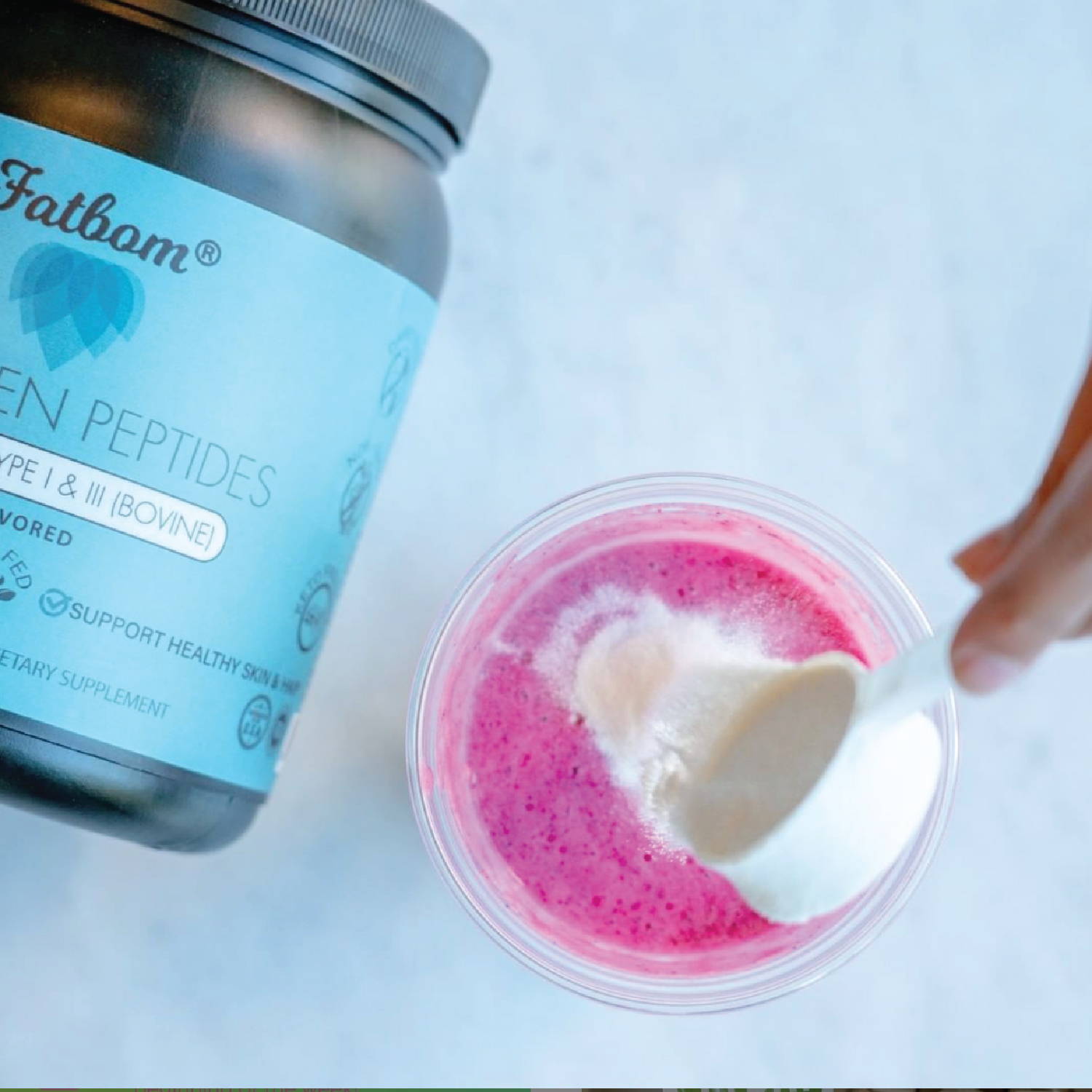 Collagen is a triple-helix protein, consisting of three strands wound together to create one strong molecule. Collagen is a large, complex protein. The ratio and concentration of amino acids may vary from source to source. However, collagen is the same whether it's sourced from a cow, chicken, or fish.

INCREASE YOUR COLLAGEN LEVELS
Collagen is one of the most necessary nutrients and needed by your body to ensure the health and vitality of your tissues, joints, tendons, bones, hair, nails, cartilage and intestines. At around 30 years of age, our bodies naturally begin to produce less collagen, and it is then when we start noticing the first signs of aging.

TYPES 1 AND 3 COLLAGEN COMBO
While there are 16 different types of collagen, types 1 and 3 have specifically shown benefits in helping with strong hair, skin, nails, and bones. Types 1 and 3 are the most common on the human body and contribute to increased elasticity of the skin, helping minimize wrinkles.

PROMOTES CARDIOVASCULAR HEALTH
Because collagen is a part of your arteries, it is critical in maintaining blood vessel health. Collagen may help lower arterial stiffness, and potentially increase "good" HDL cholesterol. This can overall help reduce risks of heart attack and stroke.

HYRDROLIZED COLLAGEN FOR EASY DIGESTION
Our collagen peptides are hydrolyzed, meaning the amino acids have been broken down into smaller parts for better digestion. This makes it a simple powder that can be mixed into your beverage and take your collagen with ease.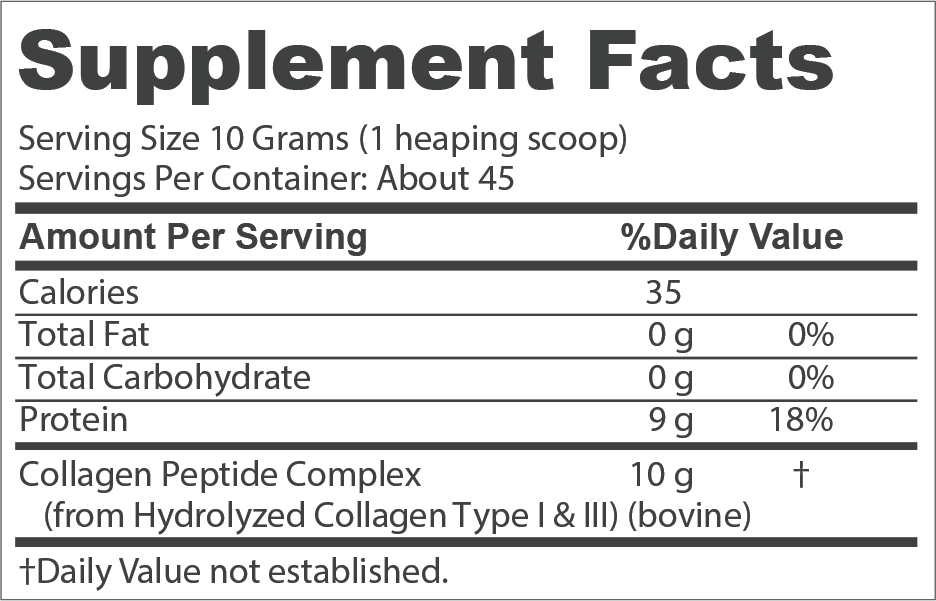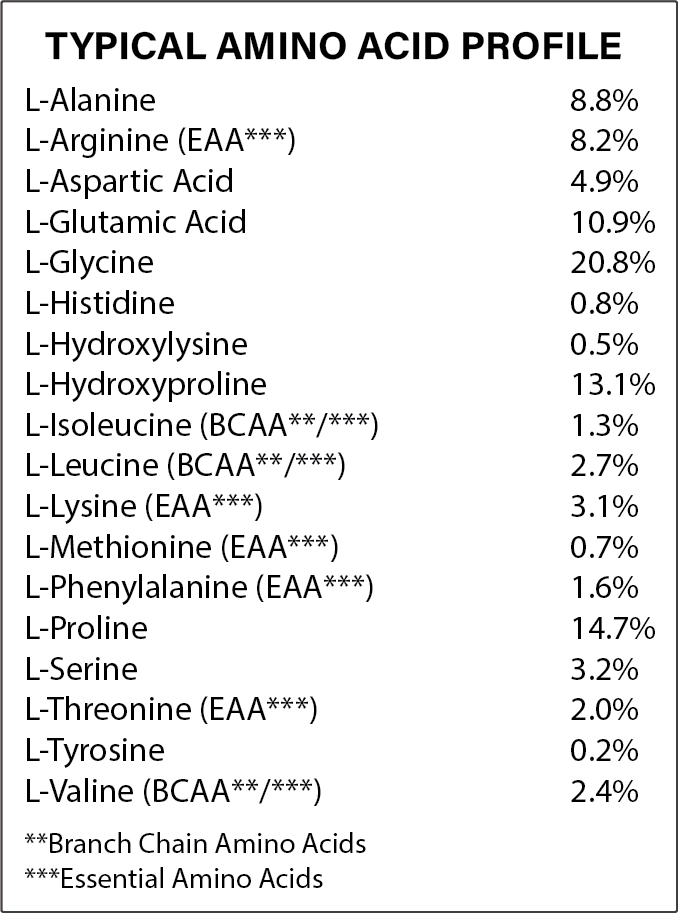 GREAT TASTING APPLE CIDER VINEGAR - NO PILLS - Get your apple cider without the bad taste of liquid or pills! Our healthy apple cider gummies are yummy and easy to eat.
Don't wait another day to start your journey
Get one of the best collagen powders on the market! No bad flavor and plenty of health benefits to enhance your body.
None of the statements on this web site have been evaluated by the FDA.
Furthermore, none of the statements on this web site should be construed as dispensing medical advice, making claims regarding the cure of diseases, nor can these products prevent heat stroke, hyponatremia, or any other injurious results of excessive physical exhaustion. You, the athlete, must listen to your body and use common sense to avoid serious injury.
You should consult a licensed health care professional before starting any supplement, dietary, or exercise program, especially if you are pregnant or have any pre-existing injuries or medical conditions.
These statements have not been evaluated by the Food and Drug Administration. These products are not intended to diagnose, treat, cure, or prevent any diseases.